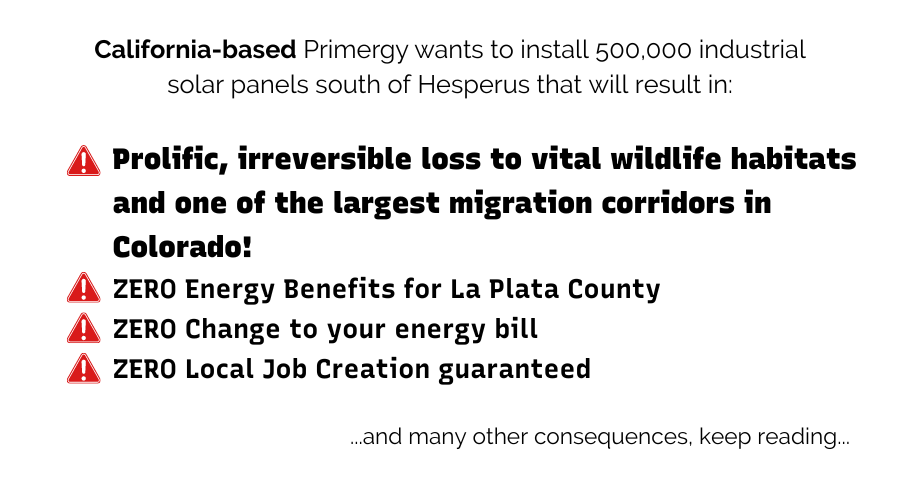 UPDATE AS OF NOV 22 2024:
On November 4, 2022, Primergy filed a 1,000-plus page application with La Plata County to obtain a permit to authorize the construction of 500,000 solar panels on 1,920 acres south of Hesperus, Colorado, off County Road 141.
On January 4, 2023, the County identified more than 100 deficiencies in the application. On August 29, 2023, the County notified Primergy it had 60 days to correct the deficiencies and to pay the $100,000 deposit to cover expenses the County may incur regarding fees and costs for retaining experts needed to review the application.
On October 31, 2023, the County notified Primergy that the application had been deemed withdrawn because Primergy had failed to sign the cost reimbursable agreement and deliver the deposit to the county. Currently the county lists the application "Expired" on its public portal and Primergy will need to file a new application and pay costs incurred by the county under the expired application and promise to pay new expenses under a new application before the county will review the new application and consider whether to grant or deny the requested permit.
Stop Hesperus Solar has been active in opposing the application from its initial filing on November 4, 2022. The information contained on this website focused on the 2022 application and its supporting documents.
SHS will leave the information up on the website anticipating Primergy will make the same proposals in any second application it files in the future.
When, and if, a new application is filed by Primergy, SHS will update the information and reassess what challenges are needed to be asserted to stop a large industrial-sized solar facility from having extensive negative impacts, not only to the Hesperus area, but to all of La Plata County.
SHS believes its concerns stated in this website are still viable and its opposition to the proposed huge solar facility is still appropriate.
Stop Hesperus Solar opposes the proposed industrial-scale solar facility...
Removing more than 1,900 acres from one of the state's largest wildlife migration corridors and elk winter range.
Providing NO benefits for local La Plata County citizens, with no proposed permanent jobs and none of the generated electricity available locally.
In addition, our community may experience increased fire dangers; watershed impact; permanent destruction of farmland, forest, and open spaces; and the elimination of a rural way of life.
** Donation's made on the change.org site DO NOT come to Stop Hesperus Solar. If you are interested in donating please email info@stophesperussolar.com
"In terms of biology of the planet, development is a euphemism for destruction."
Primergy's proposed development would irrecoverably damage 1,920 acres — an area that is 28% larger than the surface area of Lake Nighthorse. It would be one of the largest industrial-scale solar facilities in the State of Colorado. 
Natural wildlife habitat, agricultural land, and historic state-owned land would be blighted by 500,000 solar panels, a 155-megawatt lithium-ion battery storage system, a new power substation, dozens of currency inverters, and almost a mile of overhead towers and transmission lines.
Stop Hesperus Solar supports small-scale solar on rooftops or to serve individual properties, but not large-scale industrial facilities that destroy pristine agricultural, rural lands.
This is the herd of elk, using the migration corridor that we are protecting. **Sound on to hear their bugles** 
A herd of about 200 elk moving along La Plata River near Blue Lake Ranch.
"While this project is within LPEA's service territory, we want to stress that LPEA is not involved in the development of this project. Primergy is an independent power producer without affiliation to LPEA. LPEA is not bound by any expectations to purchase the power from this project, or even transmit it over LPEA lines."
- Jessica Matlock - LPEA CEO
Stay Connected
Follow Us!
Industrial-scale solar facilities belong on industrial-zoned land, abandoned mines and oil & gas fields, brownfields, marginal and contaminated areas, and even airports  — not on shrinking wildlife habitat and rural agricultural land. 
& protect your local lands
Stay up-to-date on meetings, information about the process, the petition and how to get involved!