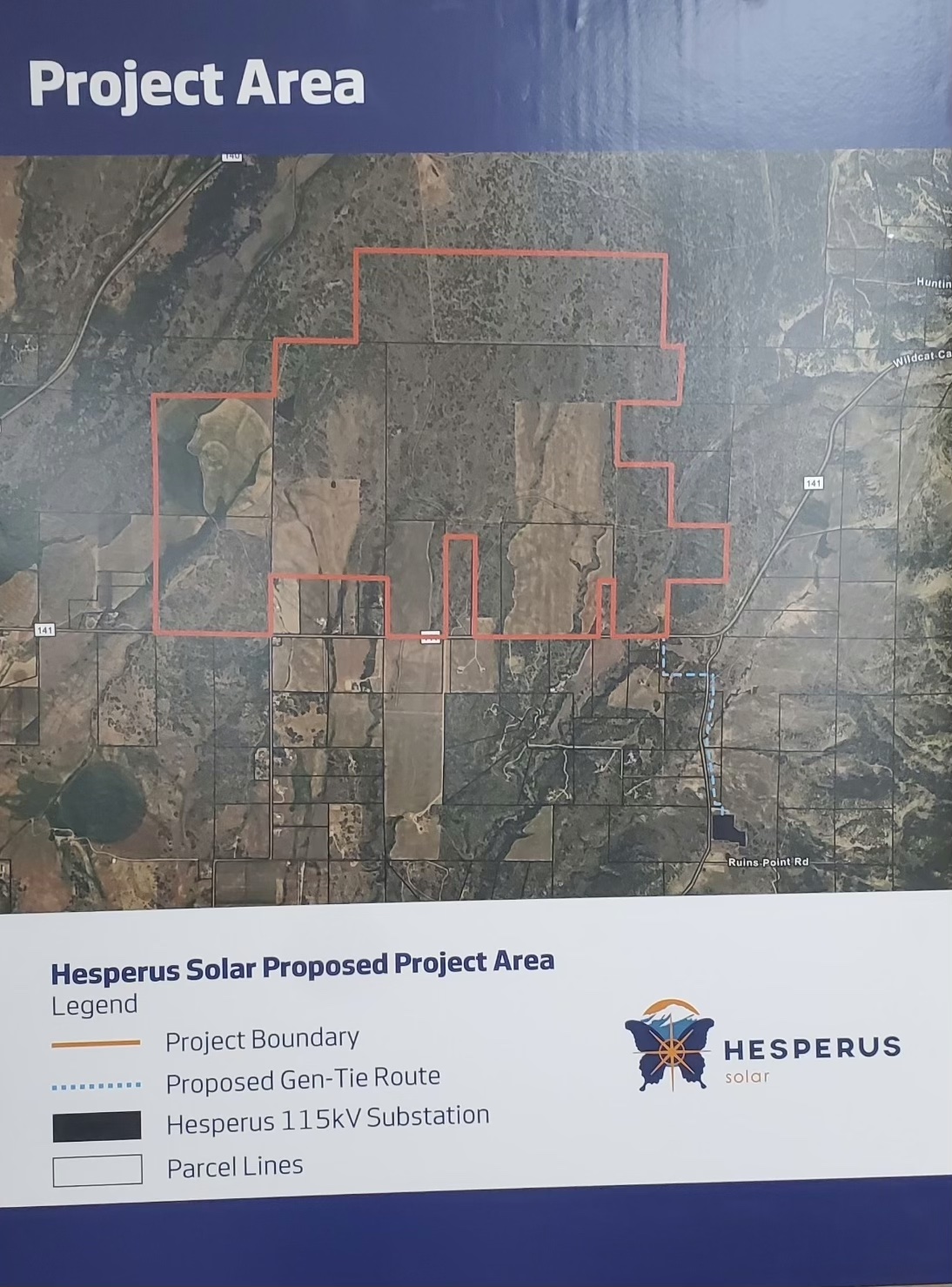 Projected Location off Hwy 141
Join Us in stopping this industrial-scale solar project
This is the 1,900 acres that has been proposed to be removed from our wildlife habitat, migration and agricultural farmland.
Help us stop this project! Industrial-scale solar belongs on rooftops, near highways, commercial, industrial-zoned land, marginal or contaminated areas, not on rural agricultural land. 
Please click on the button and sign the petition below.
Join 'Stop Hesperus Solar'
Join Stop Hesperus Solar to get updates.
Volunteer or Get Involved 
Sign the Petition
Stop Hesperus Solar is currently circulating a petition in opposition to this project. By signing you are saying  you do not want this large industrial-scale facility in our community.
**Donations made on change.org DO NOT come to Stop Hesperus Solar. If you are interested in donating to us please email info@stophesperussolar.com
Attend the Community Meeting
There is currently no meeting scheduled. Please check back for any updates.
Spread the Word
Talk to your friends and neighbors
Share this website
Join our Facebook Page and share it on your page.
Write to the Media
Write letters to the editors of our local papers so they hear your perspective. Not just the perspective of a California Corporation.
Reuben with Durango Herald 
Jonathan Romeo with Durango Telegraph
Send Comments to the County
Send your comments and thoughts to the Board of County Commissioners referencing Primergy Hesperus Solar at
or
planning@co.laplata.co.us
Let them know how this will affect you and your family.
Send Comments to the State
Send your comments and thoughts to the Governor and other elected officials
Attend the Public Hearing
Attend the public hearing before the Board of County Commissioners. 
We do not know the date of this meeting yet.
Share Our Flyer
Circulate flyers available for pickup at 
CED 56 Stewart St, Durango, CO 81303 
or for print with 
Taylor at Fresh Off The Press 
Stay up-to-date on meetings, information about the process, the petition and how to get involved!